Go North West Getaways
Free Independent Travellers - Vehicle or Campervan
Queens Birthday Weekend or July and September school holidays
Great family or couples getaway
NB New Zealand has great campervan deals till end of October 2020.
2.5 hours north west from Auckland city
Naturally Historic & The Great Outdoors
Where to Stay
For Accomodation options click here
Where To Eat
To discover where to eat click here
What to Do and See
For a list of attractions in and around Dargaville click here
Where to Shop
For a list of retail businesses click here

Enjoy a West Coast Getaway in the comfort of your camper or stay in one of our holiday parks, park motel, or motels options with the opportunity to stay at:
The Beach, Kai Iwi Lakes or Trounson Holiday Parks, or in the heart of Dargaville.
Baylys Beach, Horse Treks, 100km of beach to walk, with the dog, run, bike, surf, fish, (many styles) hang glide, sail board and for those who have a 4 wheel drive, the opportunity to drive the beach to Pouto Point in the south and the Bluff in the north - check tides but ask a local for advice.
Golf at Baylys Beach our 18 hole golf course is a real pleasure to play and loved by all who visit Campervan - Holiday Park and Lodge options.

Trounson Park has both a Top Ten and a DOC camp, while Waipoua Forest has a campground. As well as the many walking opportunities at both Trounson Kauri Park and Waipoua Forest, you can book a night walk from the Kauri Coast Holiday Park. It is possible you will hear and see Kiwis in their natural habitat. Ph for bookings. www.kauricoasttop10.co.nz
The Kauri Coast Holiday Park is a well equipped park with a small river running through it and a swimming hole popular in summer. www.kauricoastholidaypark.co.nz
You will need to be self sufficient in terms of your catering needs, as the closest supermarket is Countdown Dargaville (40 minutes) with only a gas station and basic provisions at Kaihu.

From Dargaville you can travel by road to Pouto Point and stay in the camp ground overlooking the Kaipara Harbour.
Alternatively Taylor made Tours, provide a guided tour of Ripiro Beach to Pouto from Dargaville or in the reverse, tide dependent. Stories from yesteryear of sailing ships and shipwrecks. visit: www.dargavillenz.com
While at Pouto Point visit the Pouto Lighthouse and make the climb to the summit - Only for the fit and fearless!
Your catering requirements need to be satisfied at Dargaville Countdown before travelling south to Pouto which is one hour plus on a metal road.
In Dargaville there are also plenty of historic buildings to view including the Old Post Office, the Dargaville Court House and the Old Municipal Building. The Dargaville Museum is well worth the visit and the views from the front deck over the Northern Wairoa River and Dargaville township is just amazing.

Feeling like a Midweek Getaway - With friends or Family
We have just the place for you
Dargaville & Baylys Beach
Take advantage of our Beauty & Massage Therapists
Hairdressers
Great Retail Therapy Options

Kai Iwi Lakes is a great place to explore if you enjoy swimming, cycling, hiking, relaxing.
Get a Taste of the Circus - A unique niche market offering
Circus Kumarani is hosting two free Breakaway Workshops for participants aged 11+. To be held at Selwyn Park School, Dargaville, weekdays from 10 am to 2 pm. Week One is 6th-10th July and Week Two is 13th-17th July 2020. Register at www.circuskumarani.co.nz
Beginners lessons in fire spinning can be learned in the "Tame the Flame Workshop" to be held on Wednesdays 8th and 15th July 4 pm to 6 pm. Ages 10 to 100 $10 per person.
Matariki Celebration
Join the Celebrations for Matariki on Saturday 18th July 2020. Market, Food and Performances from 4pm to 8pm. Breakaway Student Showcase at 4.30pm and Fire Show at 6 pm. See you at the Kumarani Headquarters, 15 Onslow Street, Dargaville. Other events celebrating Matariki will be held in and around Dargaville.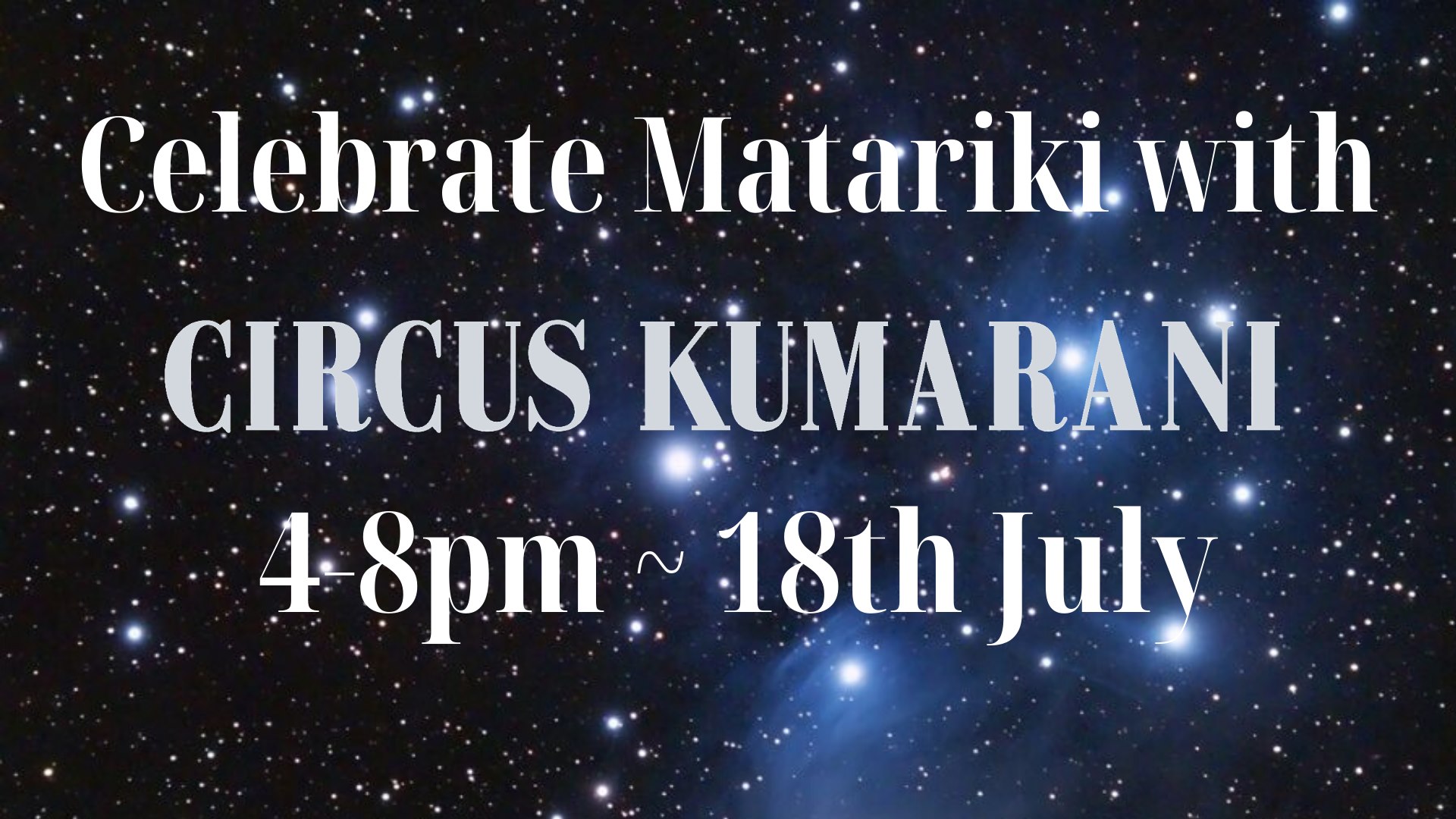 Hire a campervan from Britz/Maui or other providers for discounted rates until end of October.
Alternatively drive north west and stay in the many holiday park units on offer at Baylys beach Holiday Park and Kauri Coast Top10 Holiday Park or select one of the other many choices of accommodation in the area.
Recommend minimum 3 nights but 5 -7 nights allows for a more leisurely experience of all the wild west coast (Kauri Coast) has to offer.
Activities involving wheels are:
Pump Track at Selwyn Park
Mountainbike Track at Harding Park
Skateboard Park at Selwyn Park
Kaipara Vintage Machinery Club
Cycling Trails - Ruawai Stop Bank Trail, Kai Iwi Lakes Tracks, Ripiro Beach. for more information go to KDC Cycle Trails
Dargaville Rail Carts
Dargaville Museum
Dargaville Stock Car Club
4 wheel drive and quad bikes
Check out other activities for visit during the School Holidays and at any time you make your way to Dargaville .
In Dargaville there are many food outlets, takeaway, cafes and restaurants with a good selection of ethnic options, Thai, Indian Chinese, Subway, pizza and chicken takeouts and the very popular fish and chips.
Countdown supermarket and Four Square convenience store are a great place to stock up if staying at the Holiday Parks.
A great family getaway with many attractions and activities, for young and older - Dargaville Museum and Frisbee golf - The Kauri Museum at Matakohe - Rail & River Cruises in guided self drive rail cars - Muddy Waters Gallery - Lead light & Glass Art and The Wood Turners Kauri Gallery. Nelsons Kaihu Gallery - Riverside Gardens and play area and the very cool 'Anzac' movie theatre.
Great cycle trails - beach - lakes - rural and mountain bike options. Contact our premo cycle shop, at Dargaville 'Time To' for more information and all your cycling needs. www.timetodargaville.co.nz
Travel to Brynderwyn on SH1 from Auckland - At Brynderwyn turn left onto SH12 - gateway to Dargaville & The Kauri Coast
Don't miss the world famous Kauri Museum at Matakohe - food and accommodation options available here.
Moving on from the Kauri Museum and through the southern villages to Tokatoka mountain - worth a climb to survey the river and local area before driving onto Dargaville.
Visit The Dargaville Museum - Pouto Point - Baylys Beach & Golf - Kai Iwi Lakes & Trout fishing -Trounson Park and Waipoua Forest.
Our website provides a range of accommodation with easy navigation to your preferred option.